A white dress for summer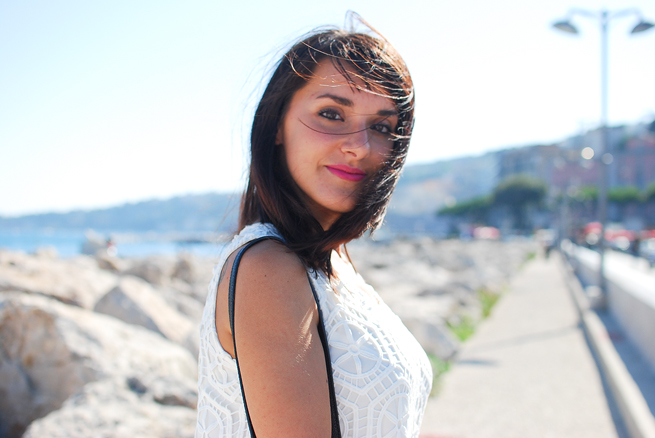 Durante l'estate il bianco è un must. In particolare mi piace il contrasto con la pelle abbronzata. I vestiti sono il capo che indosso più spesso durante la stagione estiva ma uno total white mi mancava e quando ho trovato questo da Desigual ho pensato che potesse essere perfetto sia per il giorno sia per un aperitivo sulla spiaggia al tramonto. Un vestito di questo genere è sicuramente il capo da mettere in valigia prima di partire per la vostra meta delle vacanze. Versatile e comodo, in perfetto stile Desigual, ha la particolarità della trama in pizzo che lo rende molto chic. Ciò non esclude il fatto che lo si possa indossare anche in modo più casual, magari con un paio di sandali bassi. In questo caso ho deciso di abbinarlo ai miei immancabili accessori argento e a un paio di scarpe con tacco alto ma doppio, che le rende davvero comode. Per finire una tracolla nera: questa la sto indossando praticamente sempre, è la mia nuova ossessione in fatto di accessori, adatta per ogni occasione.
During summer white is a must. I love the contrast with the tanned skin. Dresses are what I wear the most during summer season but I hadn't a total white one so when I found this at Desigual I thought it would be perfect both during the day and for an happy hour on the beach at sunset. A dress like this is definetely worth to put in the luggage before leaving for vacation. Versatile and light, in perfect Desigual style, is special for its lace details which make it so chic. This doesn't mean it couldn't be worn in a casual style, for example with a pair of flat sandals. In this case I decided to go for silver accessories, a pair of heels and a little shoulder bag: I am wearing this one every single day, it's my new obsession when it comes to accessories, suitable for every occasion.
Dress: Desigual
Shoes: Primadonna
Bag: DKNY