BLACK AND WHITE
"Avrai tante cose da intraprendere se nascerai donna. Per incominciare, avrai da batterti per sostenere che se Dio esiste potrebbe anche essere una vecchia coi capelli bianchi o una bella ragazza. Poi avrai da batterti per spiegare che il peccato non nacque il giorno in cui Eva colse la mela: quel giorno nacque una splendida virtù chiamata disubbidienza. Infine avrai da batterti per dimostrare che dentro il tuo corpo liscio e rotondo c'è un'intelligenza che chiede d'essere ascoltata."
Oriana Fallaci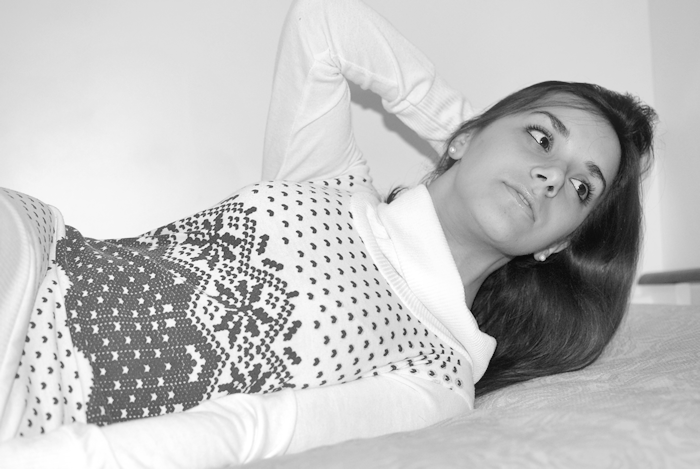 Ci sono delle giornate davvero pigre, durante le quali tutto ciò che vuoi fare è rilassarti davanti a una tazza di buon caffè, navigare in internet e dedicarti a quelle piccole cose "da donna": che sia una manicure, sperimentare nuovi tipi di make-up davanti allo specchio, mettere un po' di ordine nella propria stanza (diciamo che non sono una vera e propria maniaca dell'ordine) e tante altre cose, giusto per dedicare un po' di tempo a noi stesse. Essere donne d'altronde richiede tanta cura e fatica nella vita quotidiana.
Così è stata la mia giornata di ieri e, tra un pensiero e l'altro, mi è venuta in mente l'idea di scattare queste foto un po' diverse da quelle che sono solita postare qui, rigorosamente in bianco e nero. Stilizzate, monocromatiche, una location semplice e un look comodo e easy, composto solo di un maxi-maglione e un paio di parigine nere. Di tanto in tanto, è bello sperimentare qualcosa di diverso, anche e soprattutto quando si tratta di foto.
There are some really lazy days, during which all you want to do is relax and enjoy a cup of good coffee, surf on the internet and spend time doing those little "women" things like a manicure, trying out new types of make-up in front of the mirror, tidy up your room (I definetely can say that I'm not a crazy order) and many other things, just to spend some time for ourselves. You know, be women on the other hand requires a lot of care and effort in daily life.
So that was my daytime yesterday and between one thought and another I've come up with the idea of ​​taking these pictures a little different from what I usually post here, strictly in black and white. Stylized, monochromatic, a simple location and a comfortable, easy outfit, consisting only of a maxi-sweater and a pair of black socks. Occasionally, it's nice to try something new, even and especially when it comes to photos.