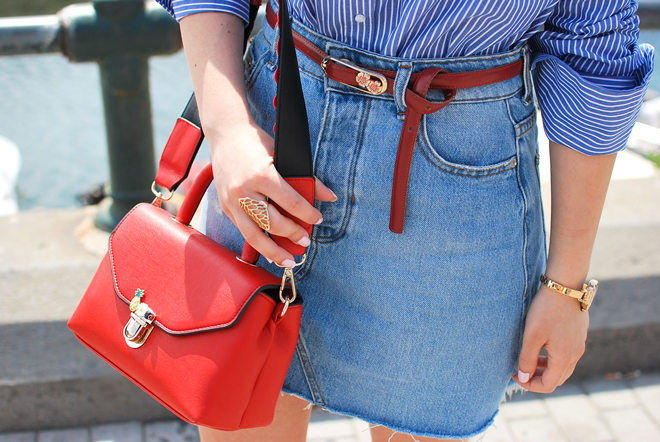 Denim skirt and red bag
A summer must have item is definitely a denim skirt. Perfect for everyday looks, it can be embellished by accessories that stand out, such as the red shoulder bag I'm wearing in this look, which makes contrast with blue tones of the off shoulders shirt and the skirt. To complete the outft I decided to match mary jane shoes with block heel and rose gold jewelry.
Capo passpartout dell'estate è sicuramente una gonna in denim. Versatile e perfetta per look casual da giorno, può essere impreziosita da accessori più particolari, come la cintura annodata o la tracolla rosso fiamma che indosso in questo look e che fa da contrasto alle tonalità di blu della camicia con le spalle scoperte e della gonna. Per completare il look ho deciso di abbinare delle scarpe mary jane con tacco comodo e indossare accessori oro rosa.
Zara shirt
Bershka skirt
La Redoute shoes
Zara bag
Hoops watch
C&A ring
vintage belt and necklace