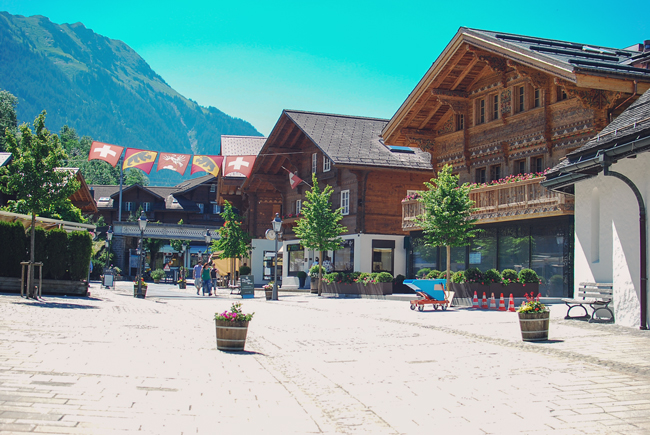 La Svizzera e i suoi paesaggi meravigliosi. In questo periodo dell'anno dominano distese di verde a perdita d'occhio. Nel primo post della mia avventura tra le Alpi svizzere mi soffermerò su Gstaad, il villaggio che ho visitato durante il mio soggiorno insieme alla mia amica, compagna di avventure e collega blogger Rossella.
Sono davvero soddisfatta di dove sono riuscita ad arrivare con le mie forze e la mia voglia di fare. Le ore passate davanti al computer mi hanno dato la possibilità di creare uno spazio virtuale da gestire personalmente. Nato nel 2011, passo dopo passo, anno dopo anno, la consapevolezza dell'importanza di questo piccolo angolo dello sconfinato web è cresciuta a mano a mano. Ciò a cui aspiro è vivere le mie esperienze al massimo, occupare la mente con le cose che mi renderanno felice e condividerle poi tutte qui, come una sorta di diario personale.
***
Gstaad è una meta turistica molto rinomata e visitata sia in estate che in inverno per la vasta gamma di attrazioni che propone: dallo sport alla cucina, dalla cultura alla bellezza del paesaggio. Immersa in un suggestivo paesaggio alpino, Gstaad mi ha subito colpita e affascinata per le sue caratteristiche case di legno che dominano il villaggio, in perfetto stile chalet, con i tetti spioventi e i balconi decorati con fiori coloratissimi per esaltare e fare da contrasto con la struttura.
Boschi, prati, torrenti e laghi – circondati da un magnifico paesaggio di montagna – danno vita a uno scenario davvero suggestivo.
Il villaggio è molto accogliente, con bei negozi, bar e ristoranti. Gstaad è inoltre definita la "capitale" alpina degli eventi, sia di sport che d'intrattenimento, che si svolgono nel corso dell'anno. Molti visitatori sono poi attratti dalla cucina. Infatti oltre a quella locale, coloro che preferiscono quella internazionale, rimarranno piacevolmente sorpresi, dato che si va dalla cucina francese a quella italiana, a quella orientale. Per tutti i gusti, insomma 🙂
Aria pura, sole, cibo ottimo e il disincanto del paesaggio alpino. Così ricorderò la mia esperienza in Svizzera.
Viaggiare, stare a contatto con la natura, vivere esperienze sempre nuove e non pormi limiti. E' così che voglio vivere, è così che mi sentirò viva.
***
English:
Switzerland and its beautiful landscapes. This time of the year green expanses dominate there. In this first post about my adventure in the Swiss alps I'm focusing on Gstaad, the village I visited during my stay with my friend Rossella. Gstaad is a very popular tourist destination, visited during both summer and winter for the wide range of attractions that offers: from sport activities to cuisine, from culture to the beauty of the landscape. Nestled in a magnificent Alpine landscape, Gstaad immediately struck and fascinated me for its characteristic wooden houses overlooking the villages, in perfect chalet style, with sloping roofs and balconies decorated with colorful flowers to enhance and make a contrast with the structure.
Forests, meadows, streams and lakes – surrounded by a magnificent mountain panorama – create an impressive backdrop.
The village is so charming, with luxury shops down the streets, bars and restaurants. Gstaad is also known as the Alpine "capital" when it comes to events, concerning sports and entertainment, which take place during the year. Many visitors are also attracted by the kitchen. In fact, in addition to the local one, those who prefer international cuisine will also be pleasanlty surprised. It ranges from French to Italian, to the Oriental cuisine. For all tastes, in short 🙂
Fresh air, sunshine, tasty food and the disenchantment of the alpine landscape. This is how I remember my experience in Switzerland.
Travelling, exploring the nature, living new experiences, not putting myself into limits. This is how I want to live, this is how I'll feel alive.
Mango t-shirt
Zara shorts
DKNY bag