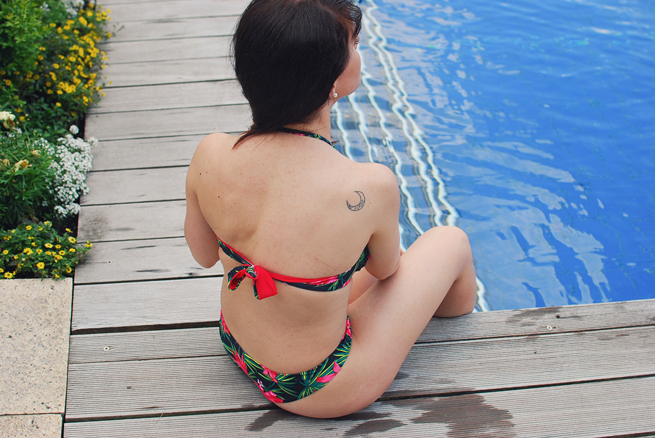 Ecco l'ultimo post sulla mia avventura in Svizzera il mese scorso. Per motivi tecnici non ho avuto l'occasione di postare in tempi brevi ma, come si dice, meglio tardi che mai. In questo post vi parlerò della parte più interessante dell'hotel Ermitage, che è decisamente quella benessere. La parte esterna relativa alla struttura presenta un parco molto carino dove ci si può rilassare a bordo di ben due piscine, godendosi la vista del paesaggio di montagna. Faceva abbastanza caldo in quei giorni, dunque il clima era perfetto per rilassarsi al sole. Vi consiglio di usare sempre la protezione solare, è davvero necessaria per proteggere la pelle e in montagna in modo particolare, dato che è così facile scottarsi perché il sole picchia forte.
L'area benessere dell'hotel Ermitage include due piscine all'aperto e un Parco Sauna con grandi sale riposo, angoli  dove rilassarsi bevendo una tazza di tè e molte sale sauna. C'è anche una parte speciale dell'area benessere dedicata esclusivamente alle donne, la "Lady's Spa". All'interno la sala è molto accogliente ed elegante, con un'area riposo con grandi divani e due particolari saune create apposta per la salute di pelle e capelli. La spa è l'area perfetta per il benessere di mente e corpo. Mi sono sentita totalmente rigenerata.
Here we are at the last post about my adventure in Switzerland last month. In this post I will talk about the best part of the Ermitage hotel, which is definitely the wellness one. Outside the hotel there is a very pretty park where you can relax in front of two pools, enjoying the mountain view. It was pretty warm during those days, so it was the perfect weather to chill under the sun. I reccomend you to always use your sun screen because in mountain is very important to protect your skin, it's so easy to get burned because the sun beats. A lot.
The wellness area of the Hotel Ermitage includes two open air pools and a large Sauna Park with huge resting rooms, little spots where you can relax drinking a cup of tea and many little sauna rooms. There is also a special part of the sauna park, which is called the "Lady's Spa". It is so charming and elegant, with a resting area with sofas and two special sauna rooms which are specifically created for the women's skin and hair health. The spa is the perfect area for the wellness of mind and body. I felt totally regenerated.
Tezenis swimwear
Photos: Rossella Padolino
Thanks to Ermitage Wellness & Spa