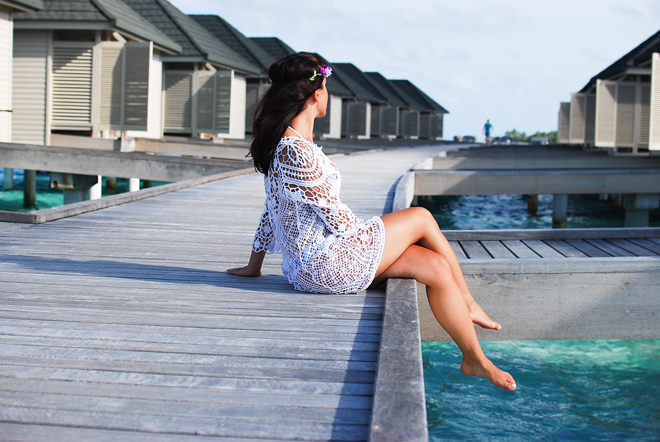 In questo momento vi sto scrivendo da una piccola isola nel meraviglioso arcipelago delle Maldive. Sabbia bianca, acqua turchese e bellissime ville sull'acqua con discesa privata nell'oceano. Ecco ciò che caratterizza questo posto mozzafiato. Io e Rossella abbiamo trascorso i primi 5 giorni a Summer Island, un resort sull'isola Ziyaaraiyfushi nell'atollo a nord di Malè che dista 45 minuti con la barca veloce dall'aeroporto. Siamo arrivate all'aeroporto di mattina dopo un lungo viaggio ma non vedevamo l'ora di goderci questo piccolo paradiso.
Quando si pensa alle Maldive, da europei, viene in mente un posto lontanissimo, nel bel mezzo del nulla, circondato dall'oceano. Le Maldive sono decisamente uno dei posti più romantici sulla terra e ora capisco perchè le coppie in luna di miele scelgono questo posto ma ci sono così tante attività che organizzano i resort qui che c'è davvero l'imbarazzo della scelta! Gli amanti dello sport possono godersi la bellissima laguna con acqua cristallina. Tra i diversi sport acquatici c'è il windsurf, lo snorkeling e il diving. Le persone che amano le avventure e le escursioni possono invece provare un'esperienza diversa, visitando altre isole, abitate e non. Io e Rossella abbiamo fatto due escursioni, visitando due diverse isole, ma di questo ve ne parlerò in uno dei prossimi post.
Summer Island è il primo resort in cui siamo state e non appena abbiamo visto il caratteristico percorso in legno che conduceva all'isola, circondata da acqua turchese, siamo rimaste completamente incantate. Il manager del resort ci stava aspettando e lo staff è stato veramente gentile ed accogliente, offrendoci un drink di benvenuto al nostro arrivo e conducendoci poi alla nostra water villa.
Summer Island è collocata su una piccola isola di circa 500mt per 130mt. Qui potete trovare il vostro alloggio perfetto tra le diverse opzioni. C'è davvero l'imbarazzo della scelta tra ville sulla spiaggia, ville con vista, ville sull'acqua. La water villa è decisamente l'alloggio caratteristico dei resort maldiviani. Noi abbiamo alloggiato in una con vista tramonto e discesa privata a mare. Per quanto riguarda la cucina a Summer Island ci sono due ristoranti: uno si trova accanto alla piscina, a buffet, con piatti sia internazionali sia tipici della cucina maldiviana e l'altro si trova accanto alle water villa con menu à la carte e un piccolo buffet. Poi c'è una spa per coccolare i vostri sensi, una palestra per gli appassionati di fitness, 2 bar e un negozio di souvenir.
Mentre sono ancora qui, circondata dal mare e dalla vegetazione, mi sento felice e rilassata, a stretto contatto con la natura e lontana anna luci dallo stress delle metropoli. Probabilmente non ho ancora realizzato alla perfezione di essere qui, lontana dall'Italia. E' la mia prima volta nell'Oceano Indiano e mi sento come in un sogno. Un ringraziamento particolare va all'ente del turismo, Visit Maldives, che ci ha dato l'opportunità di visitare questo posto magico, organizzandoci un soggiorno di 10 giorni qui, con la possibilità di alloggiare in due diversi resort. La mia avventura non è ancora finita, quindi sognerò ancora per un po'. Poi torno a casa.
***
Right now I'm writing from a little island in the beautiful archipelago of the Maldives. White sand, turquoise water and charming water villas are what distinguishes this breathtaking place. Me and Rossella have spent  5 days at the Summer Island resort on the Ziyaaraiyfushi  island in the North Malè Atoll, which is 45 minutes by speedboat from Malè airport. We arrived at the airport early in the morning after a very long journey but we couldn't look forward to enjoy this little paradise. And so we did.
You know, when you think about Maldives, as a European, you think about a far away place, in the middle of nowhere. The Maldives are definitely one of the most romantic place on earth and now I understand why couples on honeymoon choose this place but there are also so many activities that the resorts can offe you to do. The sports lovers can caertainly enjoy the beautiful lagoon with the pool look alike water. Between the many sports activities there is surfing, catamaran sailing, snorkeling and diving. People who love adventures and excursions could try a different kind of experience, discovering nice places on other islands. Me and Rossella did two excursions on two different islands but I will talk of this in another post.
Summer Island is the first resort we've been staying at and when we saw the characteristic wooden pathway to the island, surrounded by turquoise water, we  were completely enchanted. The resort manager was waiting for us and the nice staff of Summer Island handed us a welcome drink and after that, we headed to our water villa.
Summer Island is placed on a little island of 500mt per 130mt where you can find your perfect accommodation between many options. There are beach villas, vista villas, water villas and many others.  From the water villa you can see the ocean and the sunset directly from the bed. In Summer Island there are two restaurants: one is placed next to the pool and has the buffet with international dishes and the other one is next to the water villas with à la carte menu and also a buffet. There is also a spa to pamper your senses, a gym for people who can't avoid workouts, 2 bars, and a pretty souvenir shop.
While I'm still here, surrounded by sea and vegetation, I feel happy and relaxed, in direct contact with nature and so far away from the city's chaos. Probably I have not figured well how far away from home I really am. This is my first time in the Indian Ocean and I feel like I'm in a dream. A special thanks goes to the tourist agency, Visit Maldives , who gave us the opportunity to visit this magic place, arranging a 10 days stay here, with the chance to see two different resorts. My adventure is not finished yet, so I'll be dreaming for a while. Then I'll get back home.
Thanks to Visit Maldives and Summer Island resort